The 2019 National Football League saw Mayo blood a number of up-and-coming young footballers in order to bolster their squad.
One such player who took his opportunity with both hands was Breaffy club man Matthew Ruane. Highly regarded in the county at Minor and U21 level, Ruane was one of the star performers in Mayo's victorious National League campaign.
A shoulder injury after their Connacht defeat to Roscommon sidelined the midfielder until the All-Ireland semi-final defeat to Dublin.
Currently struck down for a few weeks with the same injury, Ruane says that he found 2019 year thoroughly enjoyable regardless.
"It was nice to break into the Senior team after playing Minor and U-21. It was nice to get the run of games, playing week-in and week-out. Then the injury came and that was a bit of a blow but I managed to get myself back for the Dublin game. It was really enjoyable though."
His return to the action would prove to be short-lived as Mayo's eight-game championship season ultimately came crashing down against Jim Gavin's all-conquering Dubs.
Reflecting on Mayo's second-half collapse, Ruane says it was hard to pinpoint exactly where it all went wrong.
"It was probably a combination of a load of small little things. Things didn't go our way on the day. We played well in the first half. The few minutes after the second half just cost us the game and it was hard to get back, but [Dublin] showed why they're the best team in the game."
Fast forward a few months, and Ruane and his teammates were flat out in the gym in the run-up to Christmas. On top of that, the Breaffy fetcher was midfield on the NUIG team that saw their Sigerson campaign ended by UCC in Dangan last month – all while studying for a Masters in Business Analytics!
While the discussion of player burnout rages, Ruane is clearly loving every second of it.
"We did a lot of gym work [with Mayo] pre-Christmas and then once we got back training with Mayo it was just about juggling it with NUIG. But I'm enjoying it. It's a lot of football".
Ruane says both his managers were considerate of his commitments to college and county, meaning his training load was never over-the-top.
"Generally you're doing the same amount of training you're just training with different teams. We'd never really train twice or three days in a row. In fairness, there's a plan made out and both my managers are very accommodating. They've made my life a lot easier."
The announcement of the addition of the legendary Ciaran McDonald to James Horan's backroom team had the entire county talking back in December. Ruane himself was only a gasur when McDonald kicked one of the most iconic winning scores of all time against Dublin in the 2006 All-Ireland Semi-Final.
Having idolised the man with the Midas touch as a child, Ruane says McDonald brings all of his footballing intelligence to his coaching role.
"He was a hero of mine growing up so it's cool to have him in. He's a very intelligent person and he's really good in training. He's a good communicator and he looks at the game a small bit differently because he was such an intelligent footballer."
When asked about McDonald's input into Mayo's more frequent kick-passing against Donegal and Dublin, Ruane plays down the Crossmoliona man's influence.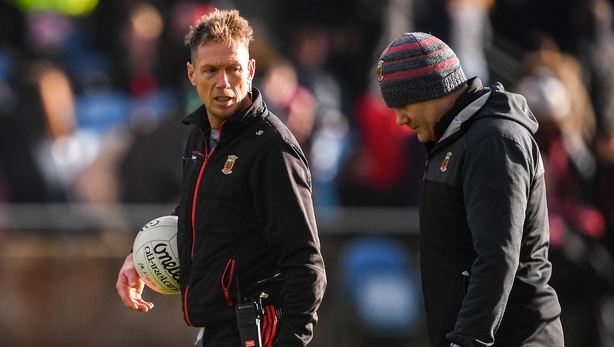 "I genuinely don't know. It's probably just a coincidence [that we're kick-passing a bit more]. But he has made a difference and he's a good man to have around the place."
The end of last season saw the departure of Ger Cafferkey and Andy Moran, two key players but equally big characters in the Mayo squad. Ruane says that the Mayo players haven't seen the last of the Ballaghaderreen bomber just yet.
"Andy's still training with the [Mayo] U20's so we'd see him the odd night at training. He's still as loud as ever!"
One man Ruane calls an "absolute legend" is fellow midfielder Tom Parsons. With many predicting the Charlestown midfielder had played his last game of football after a horrific leg injury in 2018, Ruane delights in seeing 'Big Tom' going full belt once again.
"He's super sound and has been a great mentor to me. It's great to see him back."
About Post Author